Gutter Cleaning Services in Cincinnati, Milford, Dayton & Beyond
Roofing for Troops offers professional Gutter Cleaning Services in Cincinnati, Milford, Dayton, and the surrounding areas. Our dedicated team of experts is committed to ensuring the longevity and integrity of your roof by providing exceptional gutter cleaning solutions. We understand the importance of clean and properly functioning gutters in preventing water damage to your property. With our expertise and state-of-the-art equipment, we effectively remove leaves, debris, and other obstructions from your gutters, restoring their optimal functionality.
At Roofing for Troops, we prioritize attention to detail, reliability, and customer satisfaction, going above and beyond to exceed your expectations. Trust us to maintain clean and efficient gutters that protect your investment and preserve the beauty of your home.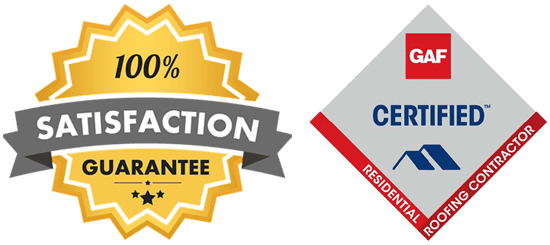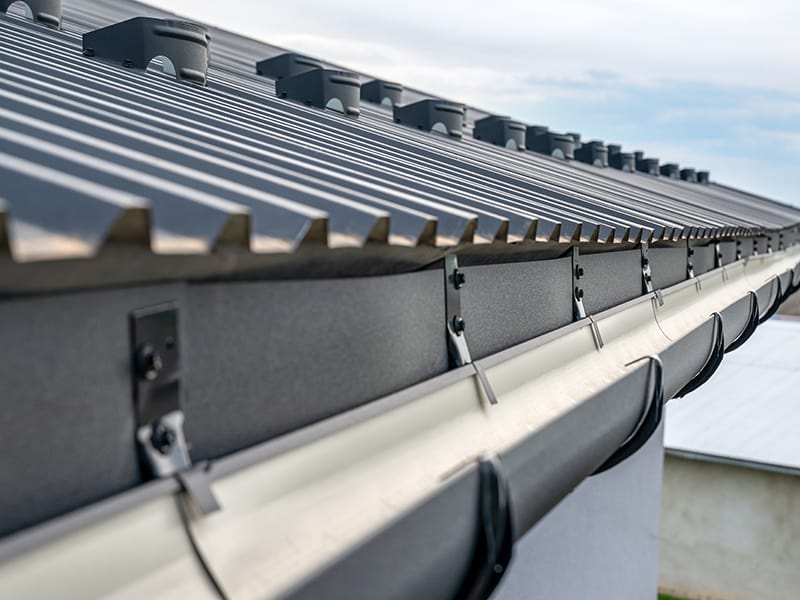 Professional Gutter Cleaning Services in Milford & Cincinnati OH
Gutter cleaning is an essential aspect of home maintenance that often goes overlooked. While they may seem like a small and insignificant component of your home's exterior, gutters play a crucial role in protecting your property from water damage and maintaining its structural integrity.
Properly functioning gutters divert rainwater away from your roof, walls, and foundation, preventing potential issues that can arise from water accumulation, such as leaks, mold growth, erosion, and even foundation damage.
Why should I have my gutters cleaned?
The primary purpose of gutters is to channel rainwater and melted snow away from your home's roof and foundation. Without functional gutters, water can accumulate on your roof and around your foundation, leading to a host of problems.
Water pooling on the roof can seep into the shingles, causing leaks that can damage the interior of your home. Around the foundation, accumulated water can lead to soil erosion, compromising the stability of your home's structure. This can result in cracks in the foundation, shifting walls, and even costly repairs.
How does gutter cleaning prevent problems?
To prevent these potential issues, regular gutter cleaning is crucial. Gutters can become clogged with leaves, twigs, dirt, and other debris over time. When these materials accumulate in the gutters, they can block the proper flow of water, leading to overflowing gutters and water spilling over the sides.
This excess water can damage the fascia boards, create erosion around the foundation, and even cause water to seep into your home.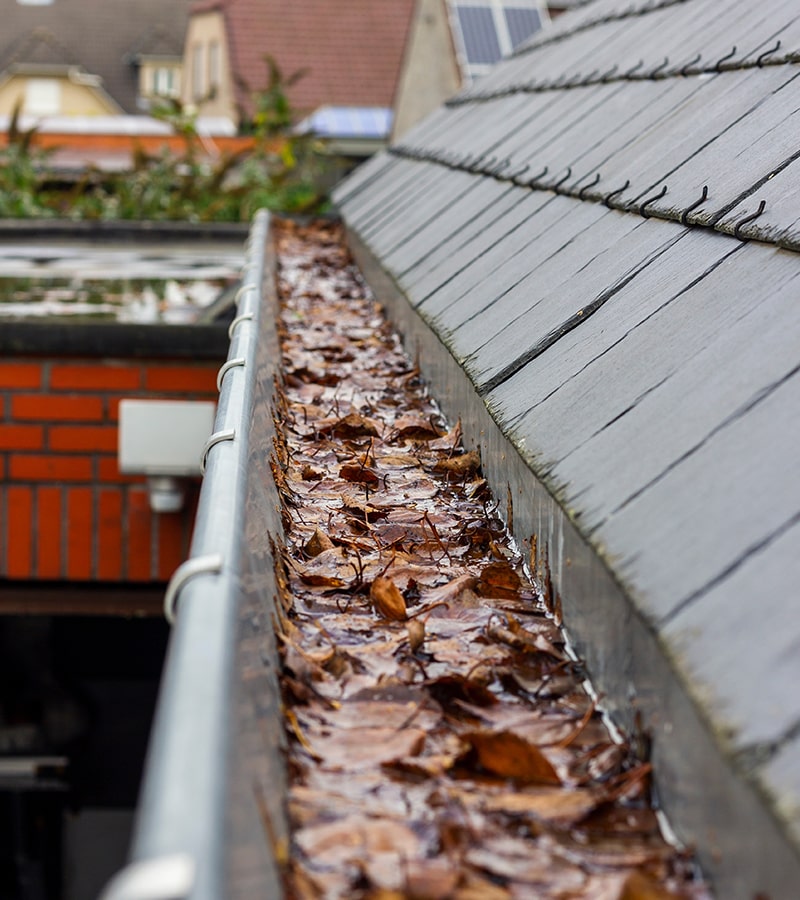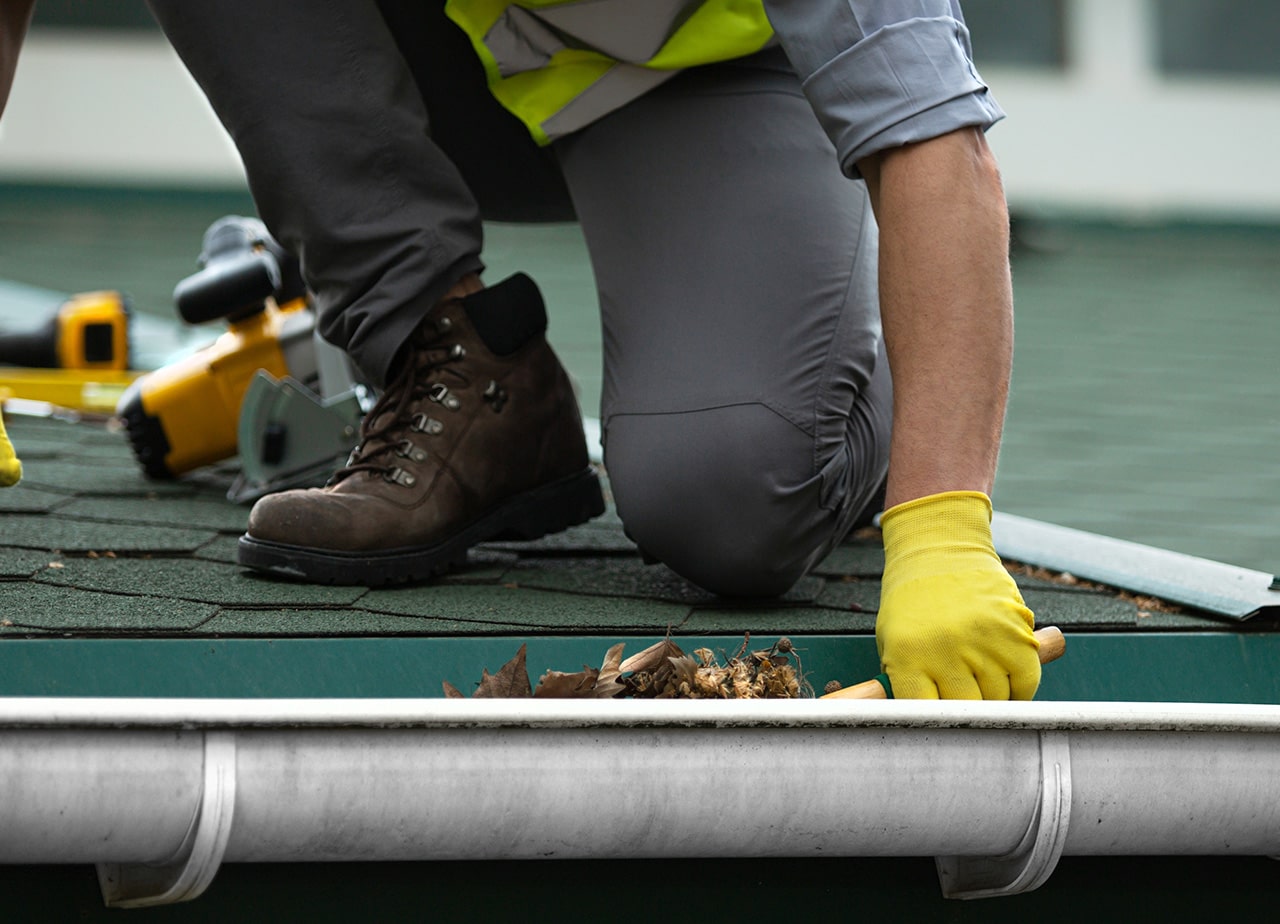 How often should my gutters be cleaned?
The frequency of gutter cleaning largely depends on your specific environment and the surrounding vegetation. If you have a lot of trees around your property, your gutters are more susceptible to debris buildup, and you may need to clean them more often. In general, it's recommended to clean your gutters at least twice a year – typically in the spring and fall. These are times when trees shed their leaves and when the weather is transitioning, which can lead to an accumulation of debris in the gutters.
However, there are certain signs that may indicate the need for more frequent gutter cleaning. If you notice water overflowing from your gutters during rainstorms, plants growing in the gutters, or visible debris buildup, it's a clear indication that your gutters need attention. Additionally, if you've had recent construction work done on your property, it's a good idea to inspect and clean your gutters afterward, as construction debris can quickly clog them.
Reliable Cincinnati and Milford OH Gutter Cleaning
Gutter cleaning is not just about maintaining the functionality of your home; it's also about protecting your investment. Water damage can be a costly issue to address, and neglecting gutter maintenance can lead to even more significant expenses down the line. By investing in regular gutter cleaning, you're proactively preventing potential damage and ensuring that your home remains a safe and comfortable environment for years to come.
Professional Gutter Cleaning is a Must
While some homeowners may choose to undertake gutter cleaning themselves, it's important to consider the risks involved. Climbing ladders and working at heights can be dangerous, especially for individuals without proper training and equipment. Professional gutter cleaning services, like Roofing for Troops, are well-equipped to handle gutter cleaning safely and efficiently. These experts have the necessary tools and experience to remove debris, inspect gutters for damage, and ensure that water flows freely through the system.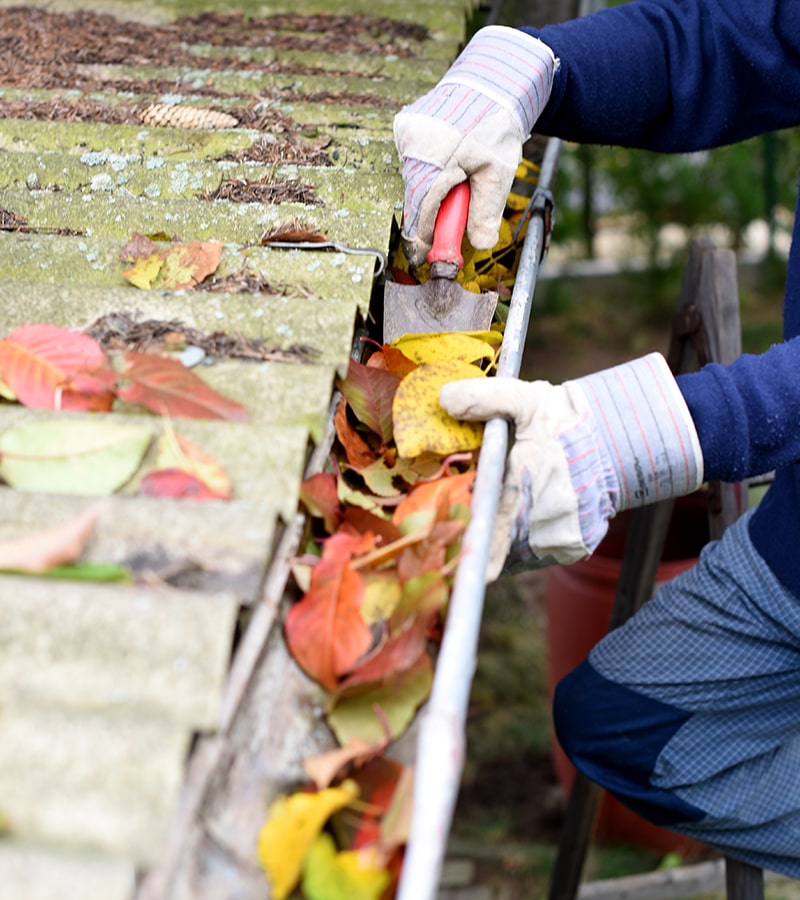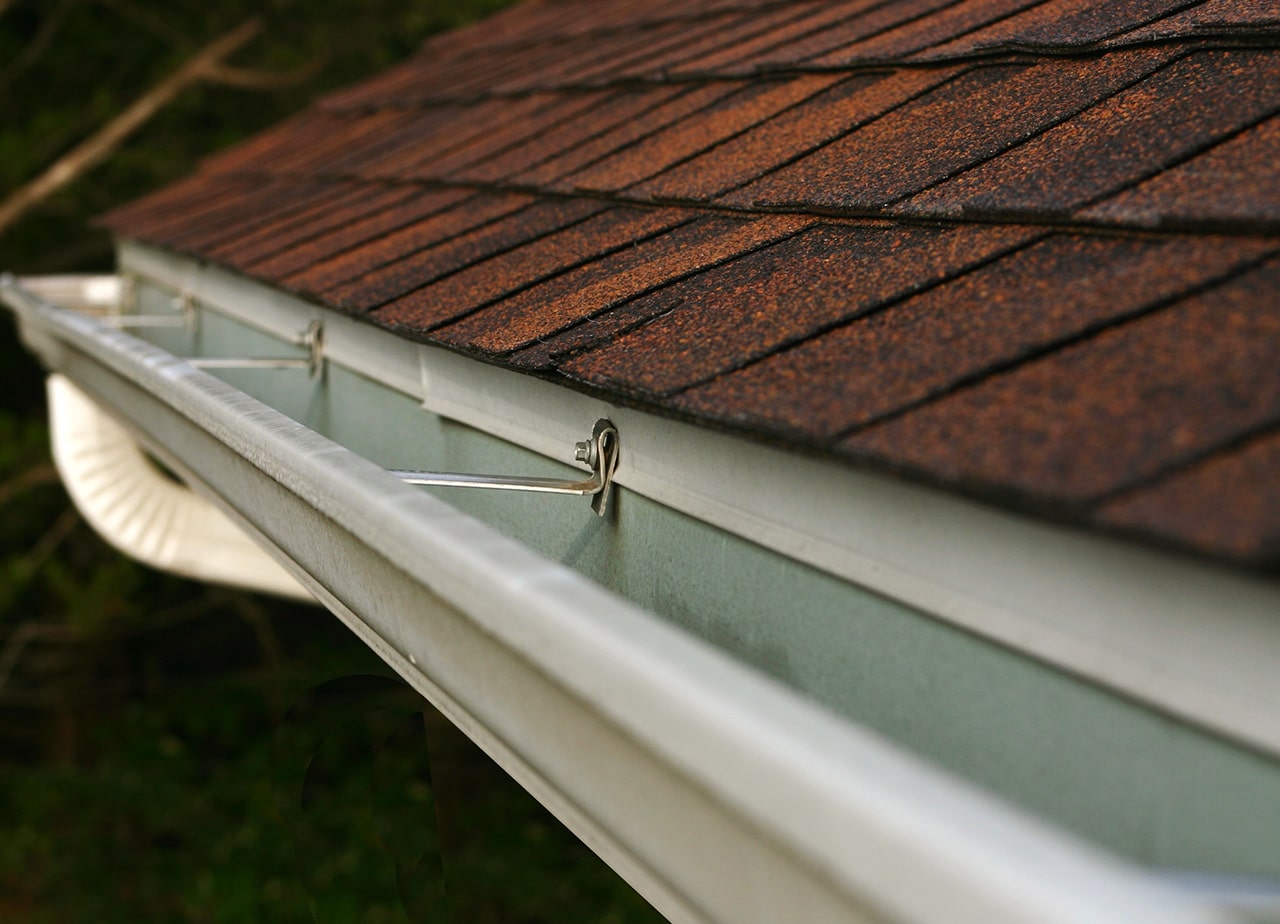 Contact us today for gutter cleaning services in Milford OH, Cincinnati OH and surrounding areas.
Gutter cleaning is a vital aspect of home maintenance that should not be overlooked. By ensuring that your gutters are clean and functioning properly, you're protecting your home from potential water damage, foundation issues, and costly repairs. The frequency of gutter cleaning depends on factors like surrounding vegetation and weather patterns, but a general rule of thumb is to clean them at least twice a year.
If you're unsure or notice signs of clogs, it's best to consult with a professional gutter cleaning service. Remember, the investment you make in gutter maintenance today can save you from significant expenses and headaches in the future.
Additional Gutter Services We Provide For Your Home
Reduce Maintenance and Repair Cost with Seamless Gutters. Servicing Milford OH, Cincinnati OH, and
the surrounding areas.
GUTTER INSTALLATION
AT COMPETITIVE RATES
Using quality manufacturers of rain protection systems, we create and install seamless gutters to fit your exact home style and measurements. No need for long waits and custom orders to get the perfect match. Clogged gutters can cause your system to fail, resulting in damage to your home. But cleaning them can be a dangerous and time-consuming chore. Count on us for safe, professional cleaning and repair.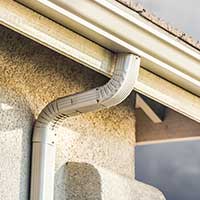 GUTTER REPAIR
Maintaining your gutters greatly reduces the chances the system will fail when you need it most. Dont let problems with your gutters lead to thousands of dollars in damage. Contact Roofing For Troops for effective, expert gutter repair solutions.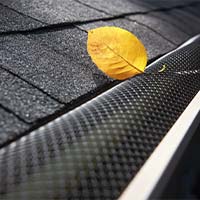 GUTTER GUARDS
Gutter guards protect the gutter system from damage, debris, and rust making your gutters last longer. Roofing For Troops recommends and installs a range of gutter guards. Your choice of make and model will depend on factors such as the pitch of your roof.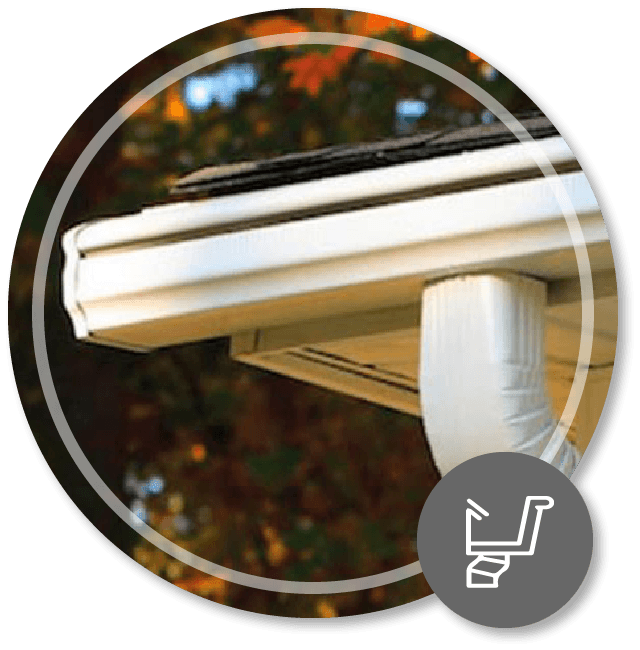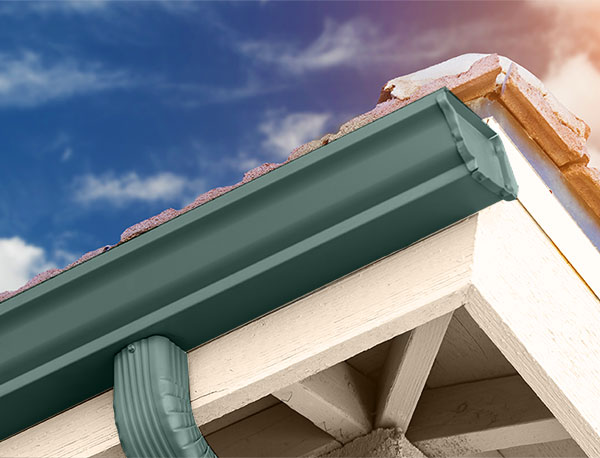 WHAT OUR CUSTOMERS SAY ABOUT US!
Testimonial-1
From the owner to the office staff Roofing for Troops did an outstanding job. The installation crew really knew what they were doing and did a beautiful and quality job. The Quality Control Manager Dave Cramer went above and beyond during the entire process. He was knowledgeable, professional and personable. Without him l would still be battling SF Insurance.
Service: Roof Installation
Bill Kindt, Sr.
Testimonial-2
Dave Kramer was incredibly helpful and kind. Roofing for Troops made the insurance process seamless and handled everything for us. They were prompt with our roof repair and now we are returning customers after the recent wind storms.
Service: Roof Installation
Liz H
Testimonial-3
I dealt with David during my experience with Roofing for Troops. They dealt with the insurance throughout the entire duration of the claim, which was a tremendous help to me. The roof was completed, looks great, and no leaks! Would recommend!
Services: Roof repair for storm & wind damage, Roof installation
Josh Simmons
Testimonial-4
A friend of mine mentioned roofing for troops and I called because our roof had lifted shingles in the corner of a rake and eve they said it was. You could tell from turning into our street. They repaired it after taking some pictures. Luckily I didn't have any major damage. Very upfront and honest about the roofs condition. The corner isn't lifted anymore and gave me peace of mind knowing my roof has actually quite some life in it still. Cleaned my gutters too! Didn't even ask. Great people highly recommend.
Services: Roof inspection, Attic venting, Gutter cleaning, Attic venting installation, Roof damage repair
Devon Dewberry
Testimonial-5
Landon did a great job helping with my roof. He also gave me tips on how to keep it from future damage and keep it looking like new. Was super nice and professional. I'd recommend him for any work! Roofing for troops in general seemed super good!
Cassie Johnson
Testimonial-6
I love them, they stuck with working thru the insurance company even when I had given up. Months later I received the call that the roof was approved!! Upon arrival to do the work they were all very friendly and fast. They did a great job on the roof and afterwards they were very diligent about cleaning the debris out of my yard. will definitely use them in the future.
Service: Roof repair for storm & wind damage
Amy Pray
Testimonial-7
If you need a new roof or repairs Roofing for Troops is the way to go. Joe Haskamp, the owner, is eager to help and very professional. He and his team work with you from start to finish aiding every step of the way which is very advantageous when dealing with insurance companies. His employees are friendly and do a great job. Also, I appreciate how they support veterans and donate to various charities. Overall, I highly recommend Roofing for Troops.
James A